Only someone like me would start their blog with a band that doesn't seem to be about any more. Seeing as most music blogs are intent on being the first to break new bands, even if they are good or not, I am going to try shun that here. This is the beginnings of an anti-hyping blog.
Anyway back to the band in question. Patrick Freyne and His Bad Intention are/were the archetype band I would like to feature in this blog all the time;a Irish band with a serious americana twang.
The group consists of former members of bands that you may recognise from the Irish scene from the early to late 1990's (National Prayer Breakfast, Wilde Oscars, El Diablo, Calico Jak). Apparently the band formed while all were attending a music course at Trinity College.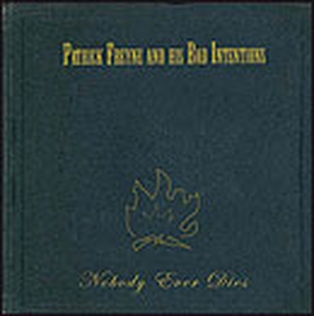 In 2006 they released their only album (so far); Nobody Ever Dies. The music itself is lovingly sparse and simple. The songs are dominated by the soft vocals of Patrick often meeting a crashing steel guitar in the songs. His voice reminds me of John Hiatt or Chris Knight. In other words a voice that you would believe when he sings about being "on the trail".
The only official video still around is for the single "March on the City of Love" which will give you an idea of the modus operandi of the band. There is little else to find from the band now. I have located only one copy of the album on Amazon (at £30 no less). Their Myspace page is still up and is worth checking out as it will give you a good taster of the band.
I was
only reminded of the band as I came across the bandpage of Calico Jak

led by Eoin Mac Ionmhain who was a former member of the band and is still making music
although
in a different genre.The Myspace page.